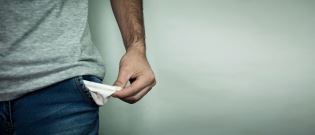 When debt begins to overwhelm a household, bankruptcy can become a viable solution. But the choice to file bankruptcy is a massive decision and trying to understand the difference between a Chapter 7 and Chapter 13 bankruptcy can cause confusion. Below you will find everything you need to know about Chapter 13 bankruptcies, to help you decide if Chapter 13 is the right choice for you.
Chapter 13 Basics
When a Chapter 13 bankruptcy is filed, it allows the person filing to create a plan that would repay some or all of that person's debt. Also referred to as a "wage earner's plan," Chapter 13 allows the debtor to offer a plan of repayment to their creditors that would pay off the agreed-upon debt within 3 or 5 years. Legally, no plan allows for payments to exceed a period of 5 years and no creditor can perform any actions related to collecting debts during that time.
The debtor's plan length is typically determined by their income. For example:
If the individual's income equates to less than the state's median, the plan is generally set for 3 years. This timeframe may be extended with just-cause.
If the individual's income equates to more than the state's median, the plan is generally set for 5 years.
Qualifications for Chapter 13
Not everyone qualifies for filing Chapter 13 and it may not be best for every individual. In order to qualify for this type of filing, the individual must:
Have stable/regular income
Be current on all tax-filings
Not have filed either Chapter 7 in the previous 4 years or Chapter 13 in the previous 2 years
Have unsecured debt of less than $394,725 and secured debt of less than $1,184,200
Not have any court dismissals in the previous 180 days regarding any petition for bankruptcy
Chapter 13 Advantages
If an individual meets the requirements for qualification, Chapter 13 can offer a variety of benefits. One of the largest advantages is its ability to allow most individuals to keep their house and car. As long as repayment agreements are being met, your home and/or car become a part of that agreement.
Chapter 13 bankruptcy is ideal for people who have an income, but may not be able to keep up with the immediate demands of debt and creditors. It can help individuals eliminate as much unsecured debt as possible, while also catching up on important debts, like a home mortgage. This is especially beneficial to those worried about foreclosure since Chapter 13 can halt proceedings and cure those delinquent payments.
In addition to saving an individual's large debts, Chapter 13 also allows secured debts to be rescheduled and extended over the period of the plan. Because of this, monthly payments are typically lower and easier to meet with the individual's current income. In addition, Chapter 13 allows individuals to protect third parties that may be liable on debt, such as co-signers.
When a debtor files Chapter 13, a trustee is appointed. This trustee collects the plan payments from the debtor and redistributes them to the appropriate creditors, which takes both the stress and inconvenience of dealing with creditors away from debtors.
For all of your Chapter 13 questions or to find out if bankruptcy is right for you, contact our knowledgeable and compassionate professionals today. We assist people with all probate matters and help those who cannot pay their debts. With reasonable fees and the guarantee of our work, you won't be disappointed.